Established in 1993, EuroEyes is one of the leading eye clinic groups in the vision correction industry, combining German ophthalmological excellence with over 25 years of experience and personalised customer-care. We provide premium services to a targeted clientele with a mid-to-high income level. Our vision correction services include treatment of myopia (laser vision correction), treatment of high myopia (implantation of ICL lenses), treatment of presbyopia (for those aged 45+; the Group has performed the most Zeiss Trifocal operations worldwide) and treatment of cataracts. The EuroEyes Group is also one of the few eye clinic groups with a far-reaching geographical clientele, performing operations in Germany, Denmark and China, and with EuroEyes offices in Hong Kong.
EuroEyes: World's leading clinic groups in performing trifocal lens exchange surgery
EuroEyes is ranked number one in Germany and number two in Denmark by market share in the advanced lens exchange surgery and refractive surgery without PRK/LASIK market. Among the existing industry participants, the Group was also the first foreign entrant to the Chinese vision correction services market.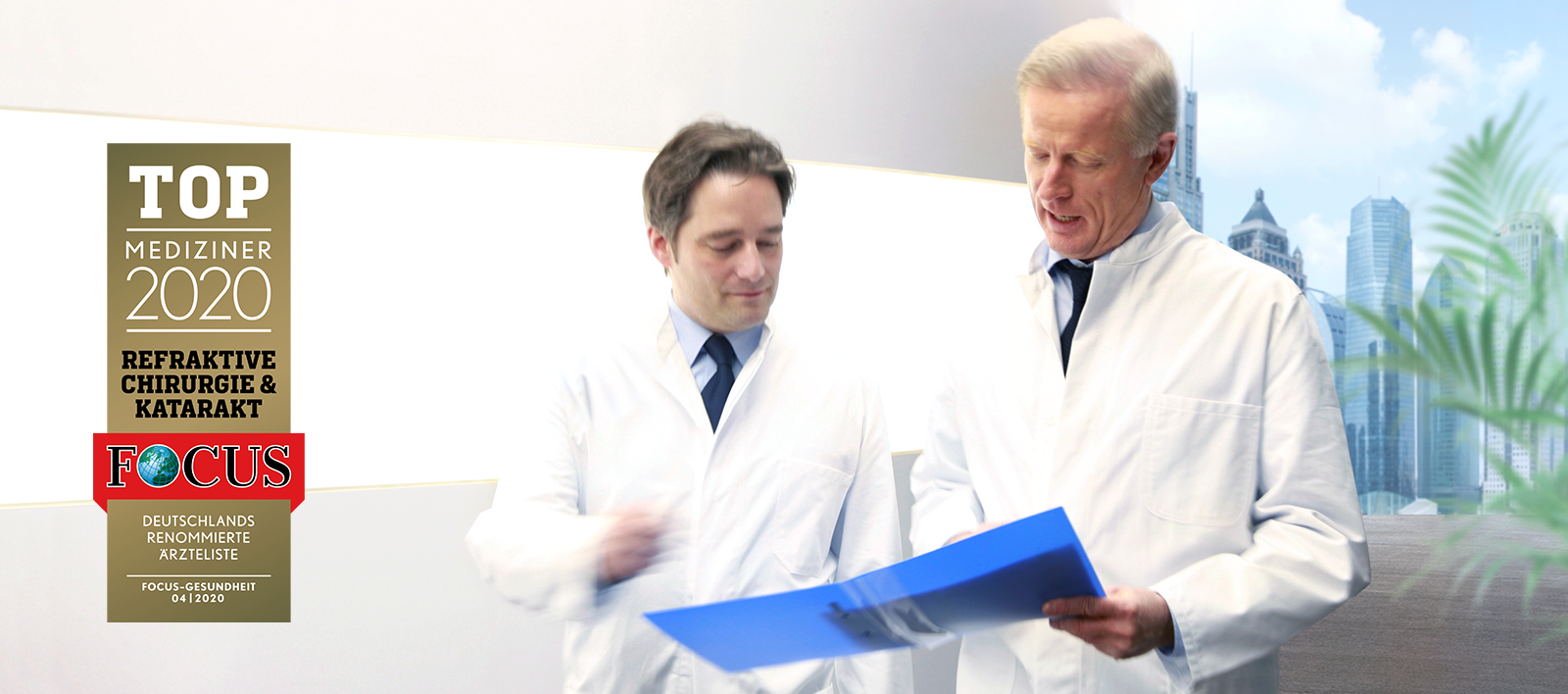 We offer innovative trifocal lens exchange surgery to treat presbyopia for people over the age of 45. EuroEyes is an industry leader in utilising trifocal lens exchange surgery as a standalone treatment option for people with presbyopia, as early as 45 years of age. The Group has been certified by Carl Zeiss as having performed the largest number of Zeiss Trifocal lens exchange surgeries in the world for the fourth consecutive year. In other words, EuroEyes is one of the world's leading clinical groups in performing trifocal lens exchange surgery.

EuroEyes became the first foreign entrant to the China vision correction services market when it opened its Shanghai clinic in 2013, and the Group has been a high-end vision correction services provider in China ever since. The signature features of the Group's services in its Chinese centres include German ophthalmological excellence, its high-volume German surgeons, early adoption of cutting-edge technologies, high levels of quality, comfort and customer satisfaction, and the landmark metropolitan locations of its clinics in major cities.
Continuous growth in China
Today, the EuroEyes Group has clinics in Beijing East, Beijing West, Guangzhou, Hangzhou, Shanghai and Shenzhen. For several years, the EuroEyes Eye Clinic in Shenzhen has also treated patients from Hong Kong, offering a shuttle service between the two locations.
On 15th of October 2019, EuroEyes was successfully listed on the Main Board of The Stock Exchange of Hong Kong Limited. With the proceeds from the IPO, our goals are to build further clinics in major Chinese cities such as Chengdu and Chongqing, make possible acquisitions of clinics in Europe and strengthen our marketing activities.
"In China, there is a huge need for vision correction. According to a market analysis, almost 90 percent of young people are nearsighted. We expect the number of people in China with myopia to grow to 655 million by 2023. Presbyopia, which is corrected with a trifocal lens, also plays an important role," says Dr.Jørn S. Jørgensen, founder, chairman and CEO of EuroEyes.
About Dr. Jørn S. Jørgensen
The founder, chairman, executive director and CEO of the EuroEyes Clinic Group, Dr. Jørn Slot Jørgensen is regarded as one of the leading authorities in the field of refractive surgery. The Euro Eyes Eye Laser Clinic in Hamburg – and the entire Euro Eyes Clinic Group – functions under his medical direction and leadership.
Dr. Jørn S. Jørgensen is a specialist in ophthalmology with 25 years of experience as an eye surgeon, and is a trailblazer in Denmark and Germany in the field of refractive and cataract surgery. He is among the pioneers of a ground-breaking generation who have established a new paradigm in the field of ophthalmology.
A cosmopolitan and an innovator
The Danish-born Dr. Jørgensen completed his studies in medicine at the University of Southern Denmark in Odense. Later he moved to Hamburg, where he completed his medical training in 1986 at the University Eye Clinic, Eppendorf.
Dr. Jørgensen, who has always been considered a cosmopolitan and an innovator, gained his experience in several countries, including Norway, St. Gallen in Switzerland, as chief and head physician in Bremen, Germany, and in Spain, where he worked in the private clinic Navarro in Gijon and Oviedo.
Throughout his work, he became increasingly interested in the field of refractive surgery. He wanted to know how to correct vision disorders and achieve change for the better – how to offer patients a sustainable alternative to their conventional vision aids. To find answers to these questions, he went to Florida, where he completed extensive training in refractive surgery at Newman Eye Institute, which at the time was considered one of the leading institutions in this field.
Hamburg – where it all started
Dr. Jørgensen wanted to bring his acquired expertise to his chosen hometown of Hamburg. Parallel to his new-found passion for refractive surgery, in 1990 he became the first eye surgeon to perform outpatient cataract surgery – using a new micro-incision technique (phacoemulsification). Less than a year later, he introduced the "no-stitch cataract surgery". His objective has always been to make treatments as gentle and pleasant for patients as possible, and wherever it is safe to do so, to reduce the length of time spent in hospital from the standard 5 days. 
In 1993 EuroEyes Hamburg – the flagship of the current company – was founded by Dr. Jørgensen, a year after he succeeded in introducing LASIK for the correction of vision disorders to the Hanseatic city.
The innovative mind of its founder was instrumental in the company's rapid growth  and within a few years EuroEyes had successfully established itself as Germany's largest independent clinical group for refractive surgery. Always one step ahead, by 2006 Dr. Jørgensen was one of the founders of the LASIK TÜV in Germany. This seal of approval is a guide for patients  when selecting a professional LASIK clinic. It certifies the highest possible quality standards, according to the strictest criteria.
Top expert in the overall spectrum of surgical vision correction
Today, EuroEyes is the leading destination in Germany and Denmark for the treatment of refractive disorders, and plays a major pioneering role in the treatment of presbyopia, ICL implantation, Femto-LASIK, and much more. With his absolute commitment and surgical experience, Dr. Jørgensen is considered the top expert in the overall spectrum of surgical vision correction. His success has already reached the magic number of 100,000 eye surgeries carried out by hand (50,000 lens implantations and more than 50,000 LASIK treatments).